When Should I Double Down?

Publicerad: 30 September, 2019
As we all know, one of the major drawbacks of online blackjack is the lack of big payouts. Because of the fact that most bets in blackjack are paid out on a 2:1 ratio, the chances of winning millions of dollars in online casinos in the US are pretty slim.
However, there are ways in which you can boost the payoffs. One of the easiest methods for getting more money on the table is called doubling down. But, do you know how to place this bet, or when should you double down in the first place? Well, if you have any doubts about this betting option, stick with this guide to learn everything there is to know about doubling down in blackjack.
Basics of blackjack - how to double down
In case you are not familiar with this move, to 'double down' means to double the wager and ask for one more card. To clarify, players who want to double down on a hand of blackjack will have to put one more bet, equal to the original wager. Also, they will receive an extra card, which is placed across the initial two cards.
By making the bet double in size, the players are risking twice as many dollars. At the same time, they are increasing the odds of making a large profit when playing blackjack. As such, doubling down is one of the most thrilling moves in the game.
Yet, not all hands in blackjack are suitable for such aggressive betting tactics. It goes without saying that you should never play on a hunch or intuition. So, let's check out the instances in which you should double down in blackjack. Needless to say, all these propositions are based on the 'rules' of basic blackjack strategy.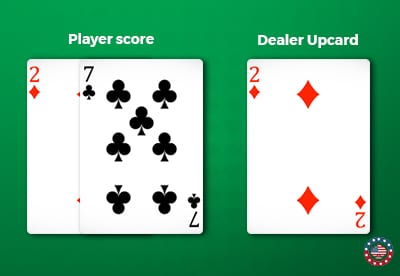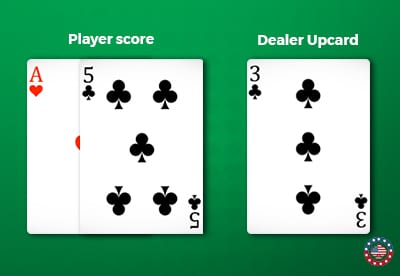 Before we proceed, it is important to note that rules for doubling down may vary from one New Jersey online casino to the other. Thus, we recommend that you go through our casino reviews section and find the best site for your needs.
Once you find a suitable online casino in the US, you should double down in the following situations:
Hard 9, 10 or 11 against a dealer's low card
Blackjack players should always double down on a hard 9, 10 or even 11 vs. a dealer's weak upcard (2 through 6). In fact, players who decide to double down on a 9 against a weak card will win 59% of the hands in the long run. Likewise, they will win 48 cents for every dollar wagered on 11 vs. a 2. To clarify, the so-called hard hands in blackjack are the ones without an Ace, such as 2+7, 3+6, or 4+6.
Soft 16 to 18 against a dealer's low card
Besides the hard hands, the game of blackjack also features the so-called soft hands. They are the ones with an Ace in the mix, such as A+5 or A+7. In case you get either one of the soft 16, 17, or 18, you should double down if the dealer is showing a weak upcard. The logic behind this move is simple and straightforward – take advantage of the fact that the dealer is vulnerable and go for the kill.
The benefits of doubling down
We already said that doubling down is a bold and aggressive betting decision. Therefore, this move will boost the levels of excitement and enjoyment when playing blackjack at one of the New Jersey online casinos. On top of that, a well-timed decision to double down can make a hand of blackjack twice as lucrative.
Recommended Casinos to play Blackjack
If you want to become a successful blackjack player, you have to master the art of balancing between adventurous decisions and safe play. For that reason, it is crucial that you double down at the right time, making the wager higher and more profitable. Of course, you should avoid situations in which doubling down is not a viable option. As a rule of thumb, American players should consider doubling down if the dealer is showing a low card. By doing so, the players will put themselves in a favorable position, ready to collect the winnings at the end of the hand.