Blackjack soft 17 rule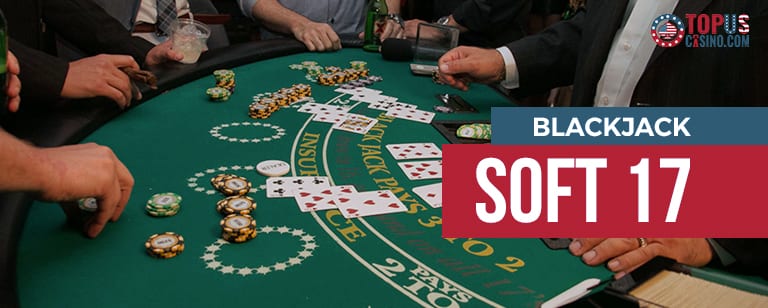 Publicerad: 20 August, 2019
What Is A 'Soft 17': An In-Depth Guide On Soft Hands In Blackjack
Over the years, blackjack has grown into one of the most popular games of chance in both online and land-based casinos. In a way, this action-packed card game is an all-American favorite. Meaning, you can play blackjack in US online casinos as well.
But, before you start playing blackjack for real money, it is important to learn the rules of the game.
For instance, it is vital to understand the concept of the so-called Soft 17 rule. Are you familiar with this rule?
Well, our in-depth guide will provide you with everything you need to know about soft and hard hands in blackjack. Moreover, we will explain the principles of blackjack strategy in relation to the soft 17 rule.
So, grab a pencil and start taking notes! Once you learn how to use the soft hands to your advantage, thousands of dollars could go your way.
Types of hands in blackjack
Even though blackjack is a one-of-a-kind game of chance, the rules of this card game are easy to understand. The goal of each hand in blackjack is to beat the dealer, i.e. to reach as close to the magical number 21 as possible, without going over it. If you go over 21, your hand will bust and the casino will take your bet.
In a game of blackjack, the cards have different values assigned to them. The cards from 2 through 9 have their face value, while the cards from 10 through K have a value of 10. And, then comes the Ace, the pivotal card in a game of blackjack.
The interesting thing about the Ace is that it changes its value from one moment to another, like a chameleon. In some situations, the Ace can be counted as 1. Yet, in other moments, you will count the Ace as 11. In a way, Ace is the most important card in online blackjack, so pay attention to this card when playing in a US online casino.
On top of that, the presence of the Ace determines the type of a hand in blackjack. As you know, the dealer will give each player two cards. If one of the cards is an Ace counted as 11 – the hand is soft. For example, the combination of an Ace and a six is called the soft 17. Likewise, a pair consisting of an Ace and a seven is called the soft 18, and so on.
On the other hand, a pair of cards without an Ace counted as 11 is called a hard hand. So, the combinations of 10+7 or 7+9+A are all examples of hard hands in blackjack.
In addition, we should quickly mention the third type – the so-called stiff hands. This particular term indicates that the combined value of your cards is 12 through 16. In short, stiff hands spell trouble for the player. Moreover, they often lead to tough calls or mistakes.
Soft 17 vs. Hard 17: How to play
Speaking of mistakes, it is crazy how many players are misplaying the soft 17 hands. In a way, this hand is famous for causing confusion, and that is why our comprehensive guide should resolve all your dilemmas. After that, you can play blackjack in some of the best New Jersey casinos with confidence.
In a nutshell, the main rule is that you should NEVER stand on soft 17! In other words, you should either hit or double down, depending on the dealer's upcard. So, it is best to consult the basic strategy chart before making the move. In case you don't know it yet, the basic strategy chart in blackjack can be an important ally.
When it comes to hard 17 in blackjack, the rule of thumb is that you should ALWAYS stand! So please, try to take at least these two things away from this article and remember them next time you play blackjack in one of the online casinos in the USA.
But, why you should stand on hard 17? Well, if you would take another card – the chances of going bust would skyrocket. Thus, it is best to sit tight and hope for the best when having a hard 17 combo in your hands.
To sum up, the soft 17 and hard 17 hands in blackjack are played in a different way. With that being said, let's take a look at the available options when you receive a soft 17.
Double down
The main logic behind doubling down on soft 17 is to get more money on the table. However, you need to look at the dealer's upcard before deciding to double down. In case the dealer is vulnerable to bust, channel your inner shark and go after the smell of blood.
To clarify, you should never miss the opportunity to double down when:
The dealer's upcard is 3 through 6 (2 through 6 in a single deck blackjack)
On the other hand, you should never double down when:
The dealer's upcard is 7 through Ace.
Needless to say, these 'rules' can vary from a casino to casino. For that reason, always make sure you are familiar with the casino rules for blackjack before playing the game.
Hit
As we already mentioned, one of the biggest mistakes when playing blackjack is to stand on a soft 17. So, you should either hit or double down. But, we already said that certain situations are not suitable for doubling down. Thus, your only remaining option is to hit, i.e. to ask the dealer to provide you with one more card.
To sum up, you should always hit when:
The dealer's upcard is 7 through Ace.
It is important to note that rules can also vary depending on the number of decks in the game. As you know, blackjack can be played with different numbers of card decks. We already mentioned the single deck blackjack, but New Jersey online casinos can offer multi-deck blackjack as well. In other words, the so-called shoe can contain six or even eight decks of cards.
Does the dealer hit on soft 17?
While we are on the subject of cards, it is important to explain the 'behavior' of the dealer when he or she receives a soft 17. In a game of blackjack, the dealer is also proactive and they need to make certain decisions as well.
Thus, the decision of whether to hit or stand on soft 17 is a big one for the dealer. As a matter of fact, this particular segment of the game is so important that the rule is typically written on the layout of the table. So, pay attention to the words written in front of the dealer.
As a rule of thumb, US online casinos will tell their dealers to stand on 17 or more. In all other cases, i.e. when they have 16 or more – the dealers should hit. Well, when it comes to the soft 17, things are a bit more complicated.
In recent years, more and more casinos are asking their dealers to hit on soft 17. By doing so, the dealers are increasing the house edge in favor of the casino by 0.20%. In translation, the house advantage 'jumps' from 0.56% to 0.63% when the S17 rule is in play at a 6-deck blackjack. Therefore, players should always be aware that the S17 rule favors the casino. With a higher house edge, the casino will win more hands in the long run.
The bottom line is – always try to play online blackjack in a casino where the dealers will stand on soft 17!
Key elements to remember when playing online blackjack
Online casinos in the US can provide players with exceptional service. For that reason, we recommend playing online blackjack at some of the best casinos in New Jersey. Not only that this method of playing is convenient and efficient, but it also comes with great potential for winning thousands of dollars. Of course, the potential comes from a wide array of casino bonuses that will await you at these online casino sites.
However, there are some things you should keep in mind when playing online blackjack. First and foremost, it is imperative that you sign up with a reputable and trustworthy casino. After that, it is best to play single deck blackjack because it offers better odds of winning. And, once you start playing – have in mind all the elements we mentioned earlier in the article. Also, some players decide to have a basic strategy chart somewhere within reach when playing blackjack. So, consider using this helpful tool as well.
Recommended blackjack casinos
Final thoughts
All in all, the soft 17 rule is a concept that can make or break your hand when playing blackjack. Of course, skilled and experienced players are aware of the importance of this rule. That is why our guide can provide smart bettors with a convenient and comprehensive way to step up their game. By doing so, players can boost their odds of winning. In short, they could be leaving the blackjack table with a big smile on their face.