Solar Temple Slot Review: The Search for Aztec Treasures Continues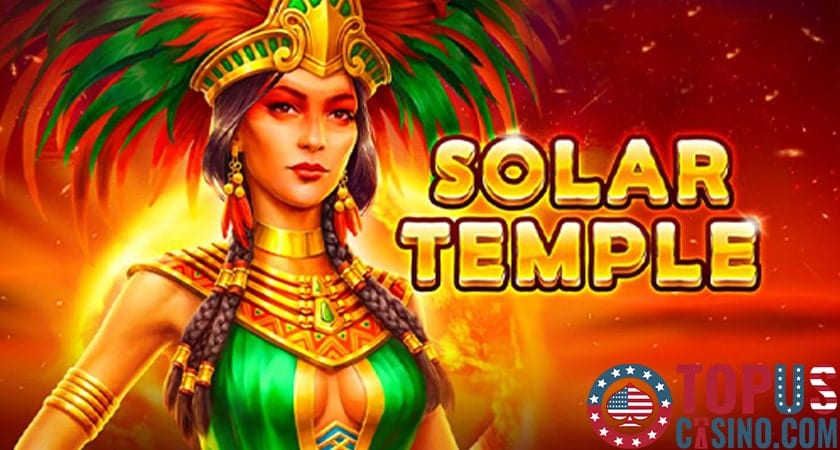 Publicerad: 25 March, 2020
Rating:
 4.28/5
Take home a maximum of 20,000x your stake
Enjoy additional features from Solar Queen
Win more with the Flaming Frames feature
Full Review
Game Information
Paytable
Star Rating (4.28/5)
Full Review
Solar Temple Slot FULL REVIEW
Playson is back with the sequel to the hit slot – Solar Queen. This time around, the game provider is taking you deep into the South American jungle to continue the hunt for the lost Aztec treasures.
While on the hunt, you're bound to come across free spins coupled with sticky wilds not forgetting unlimited multipliers. However, what will grab your attention is the Flaming Frames feature that comes alive once the flaming sun symbol lands on the reels.
There's more to this video slot game, so let's get right into it.
Gameplay
Solar Temple takes the typical approach similar to other slot games. Playson decided to include 5 reels, 4 rows, and 20 paylines. Nothing too complicated.
---
| | | | | | |
| --- | --- | --- | --- | --- | --- |
| Symbol | Type | 2 on a payline | 3 on a payline | 4 on a payline | 5 on a payline |
| Aztec Woman | Object | 10.00x | 100.00x | 250.00x | 1,000.00x |
| Red Face Mask | Object | N/A | 25.00x | 125.00x | 375.00x |
| Gold Face Mask | Object | N/A | 25.00x | 125.00x | 375.00x |
| Lizard | Animal | N/A | 25.00x | 100.00x | 300.00x |
| Bird | Animal | N/A | 25.00x | 100.00x | 300.00x |
| Cat | Animal | N/A | 25.00x | 100.00x | 300.00x |
| Cow | Animal | N/A | 25.00x | 100.00x | 300.00x |
| A | Symbol | N/A | 10.00x | 50.00x | 150.00x |
| K | Symbol | N/A | 10.00x | 50.00x | 150.00x |
| Q | Symbol | N/A | 10.00x | 50.00x | 150.00x |
| J | Symbol | N/A | 10.00x | 50.00x | 150.00x |
| 10 | Symbol | N/A | 10.00x | 50.00x | 150.00x |
Moving on to the wagers, the slot game accepts a minimum of 20 cent while high rollers will be comfortable with $100 per spin. It's also worth mentioning that Solar Temple also offers an Autoplay option. Just in case you need a break from the manual spins.
Symbol
Everything about the symbols in Solar Temple screams royalty. Starting with the card symbols that also act as the lowest paying symbols in the game, you have 9, 10, J, Q, K, and A.
On to the more lucrative symbols on the reels. You have the 2 distinct face masks one in gold and the other red. The remaining high-value symbols are 4 animal representations.
You'll want to focus more on the Aztec woman. This symbol presents the biggest payout with 0.1, 1, 2.5 or 10x your wager for 2, 3, 4 or 5 symbols. Since royalty runs in the game, the Aztec woman is adorned in a spectacular green dress and a headgear with feathers.
Finally, you have the wild symbol that will substitute other symbols except the scatter which is played by the teocalli or the Aztec pyramid.
Bonuses
This is where the action begins in Sunny Fruits: Hold and Win.
Flaming Frames Feature
This exciting bonus feature does exactly what you think but with a bit more. First, you'll need to land the flaming sun symbol to ignite the symbol position. Since the action takes place in 10 steps, the last step will see the Flaming Frames transform into wild symbols.
Later on, you'll receive your payout after calculations and the reels will return to their original state.
Progressive Multiplier Feature
The sun symbol comes in handy again here. To benefit from the multiplier, the sun symbol must land on a Flaming Frame position.
This will activate the multiplier train that will go up by 1x for each sun symbol you land. The multiplier will go back to 0 once you hit the 10 cycles.
Free Spins Feature
Solar Temple wouldn't be complete without the Free Spins feature. To kick it off, you need to land the Aztec pyramid symbol on reels 5, 3, and 1.
You'll receive 10 free spins for your effort but that's not all. Look out for the sticky wilds that appear once a sun symbol appears on the reels. The sticky wild will then lock in place for the duration of the remaining free spins.
RTP
Solar Temple offers you a slightly higher Return to Player (RTP) than Solar Queen with 95.22%.
Volatility
Solar Temple chooses to go for a delicate balance between medium and high variance. No too low and not too volatile to threaten stability.
Graphics
From the visuals to the graphics, everything on Solar Temple is top-drawer stuff and Playson gets a kudos for that.
Greeting your eyes after the game loads up is the game's setting, which is inside the South America jungle – a location known for hiding the Aztec treasures. Just so you know you're hunting for valuables; the reels are in gold with a blue backdrop where the classy symbols are displayed.
Payout
How does 20,000x your bet, which means $2 000000 sound? Not too bad, huh? That's what you'll get as the maximum payout on Solar Temple. If that's not enough, you can fill the void using the 10 steps in the Flaming Frames.
Verdict
Solar Queen may have filled your veins with adrenaline but Solar Temple promises to go above and beyond. The added features are the main reason for that but the fact that Playson is behind this amazing slot is enough reason to check it out at any top online casinos in US.
If you're a treasure hunter, Solar Temple offers the best chance to show off your skills.
Game Information
Solar Temple Slot Information
Game Provider: Playson
Slot Type: Video slots
Slot Theme: Aztec
Bonus Game: Yes
Progressive: No
Wild: Yes
Scatter: Yes
Autoplay: Yes
Multiplier: Yes
Free Spins: Yes
Paytable
Solar Temple SLot PayTable
---
| | | | | | |
| --- | --- | --- | --- | --- | --- |
| Symbol | Type | 2 on a payline | 3 on a payline | 4 on a payline | 5 on a payline |
| Aztec Woman | Object | 10.00x | 100.00x | 250.00x | 1,000.00x |
| Red Face Mask | Object | N/A | 25.00x | 125.00x | 375.00x |
| Gold Face Mask | Object | N/A | 25.00x | 125.00x | 375.00x |
| Lizard | Animal | N/A | 25.00x | 100.00x | 300.00x |
| Bird | Animal | N/A | 25.00x | 100.00x | 300.00x |
| Cat | Animal | N/A | 25.00x | 100.00x | 300.00x |
| Cow | Animal | N/A | 25.00x | 100.00x | 300.00x |
| A | Symbol | N/A | 10.00x | 50.00x | 150.00x |
| K | Symbol | N/A | 10.00x | 50.00x | 150.00x |
| Q | Symbol | N/A | 10.00x | 50.00x | 150.00x |
| J | Symbol | N/A | 10.00x | 50.00x | 150.00x |
| 10 | Symbol | N/A | 10.00x | 50.00x | 150.00x |
Star Rating (4.28/5)
Solar Temple SLot Rating
Gameplay: 5/5
Bonuses: 3/5
RTP: 4/5
Variance: 4/5
Compatibility: 4/5
Graphics: 4/5
Win Potential: 4/5
Play Solar Temple Slot at the Best Online Casinos

More casino guides